Seaory Certified by "National High-tech Enterprise"
1-Mar-2023
Recently, Shenzhen Seaory Technology Co,.Ltd. received the "High-tech Enterprise Certificate" jointly issued by Shenzhen Science and Technology Innovation Commission, Shenzhen Finance Bureau and Shenzhen Taxation Bureau of the State Administration of Taxation. Seaory officially became a National High-tech Enterprise! The successful recognition of National High-Tech Enterprise is an important point in the growth and development process of Seaory.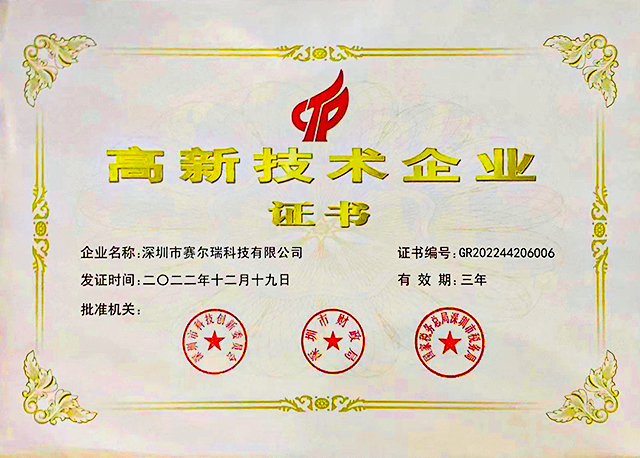 As one of the highest honors of Chinese science and technology enterprises, the title of "National High-tech Enterprise" is a special qualification established by the state to support and encourage the development of enterprises in the field of high-tech, adjust the industrial structure and enhance the competitiveness of the national economy. Enterprises that have obtained the qualification of National High-tech Enterprise represent the level of technological development, new technology application and automation intelligence in their business fields.
The acquisition of National High-tech Enterprise fully reflects our comprehensive strength in intellectual property rights, the ability to transform scientific and technological achievements, the organization and management ability of research and development, as well as the growth of the enterprise. The company will not forget the original intention, continue to increase investment in R&D, uphold the development concept of "mastering core technology, localized services", focus on developing core products and technologies, enhance the core competitiveness of enterprises, and lay a solid foundation for the sustainable development of the company!